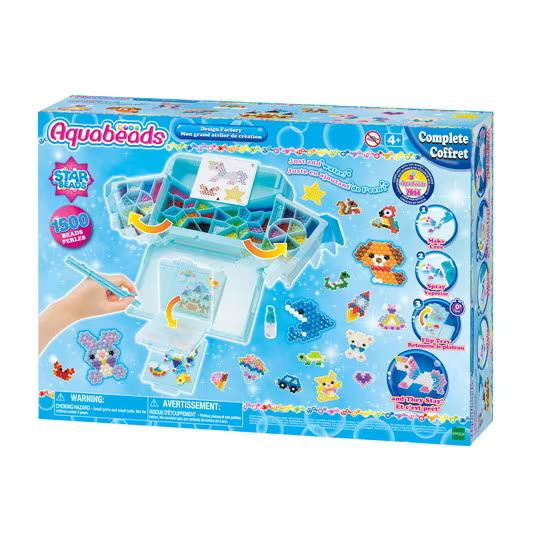 Description
Model: 31775
Age: 4+ yrs

Inspire creativity with Aquabeads Design Factory, the original ""stick with water"" arts and crafts bead activity toy.
The Design Factory set includes over 1500 star, solid, and jewel beads in 48 colors, toold box with flip tray, double-sided Aquabeads pen, layout tray, sprayer, template sheet with instructions.
Star Beads look like little stars and can be used to show texture with Aquabeads, and brand new Aquabeads creations are possible!
Make creations in various designs, such as unicorn, teddy bear, cat, dog, dress, or even a rocket.
Following the template design, use the bead pen to place the beads onto the flip tray to create your design.
Don't worry about mistakes because you can pick up misplaced beads with the bead picker by sliding the trigger on the opposite end of the bead pen.
Remove mistakenly placed beads by gently picking them up with the bead picker.
Using the sprayer, spray water onto the beads to make them magically stick together!
When the bead creations are completely dried after 60 minutes, carefully take the creation off from the tray and decorate onto the creation display with design pegs.
Creation display instantly becomes a great display to keep your Aquabeads creations!

Warning! Not suitable for children under three years. Choking hazard – Small parts.